Perfect World is a Free to Play mmorpg that previously had servers in China and the Phillapines, and is now branching out to a English Malaysian server.
The game has graphics above Lineage 2's, with a very large open world filled with beautiful graphics, many features, player houses, player built cities, a large PVP system, etc. The official forums opened yesterday, and the game's closed beta will be opening sometime this week.
As for the Guild, I thought anyone who is interested in joining what is currently the largest Guild for the Malaysian English version might want to check us out. Here is our little spiel (You can also find this on the official forums)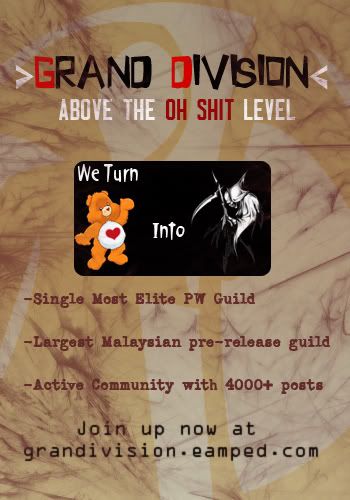 We are a great, VERY organized guild. We will be doing some very strong PvP and will succeed in everything we try in. Currently we are the biggest pre-release guild and we are very proud of it(80+ strong members.) We have made both a recruitment video and poster and both have had very good positive feedback.
Our Guild leader runs this guild like a democracy. He will listen to your comments/opinions/suggestions and if possible, will take those and use it to profit the guild in the best way possible. He does not dictate. We do ask that you be online for events AT EVERY EVENT and if you can not come to said event, you must inform one of the Class, Race, or Command Leaders that you will not be there, and give a brief explanation as to why.
We have already started strategizing and planning for the Territory Wars, and also normal PvP and Clan Wars. We have 3 Race Leaders, and 4 Class Leaders (Still looking for a YaoShou and YaoJing leader!) Along with the Guild Leader, and Second + Third in command. We have in-game training which makes us unique. We will have certain times and dates where we have all of a certain class in the guild go out into a spot with little traffic and the class/race leaders will help train you to get better at PvP, and also teach you things like combos, techniques, tips, ect.
We are a somewhat serious guild. We have a territory war battlefield map, and are already starting to plan out strategies with it. We have our Ventrilo server up and running.
Believe me, you will have FUN in this guild because we have so many things to accomplish, and if you don't want to miss out be sure to join!
An example of how serious we are would be that we have "The Art of War" ebook uploaded and hosted at our forums.
http://www.grandivision.eamped.com
register on the forums and be a part of the community and i'll consider you part of the guild.
Recruitment Trailer:
http://www.gamespot.com/users/spitfire1 ... f65b8MsjTX
The member number on the recruitment trailer is not correct. We currently have 107 members registered to the forums.