Cash Game Bots And Method $60-$75 every a day - Video Link, Rules, Proof inside
I make King.com bots have been making them since 2004 and they work 100 percent all the time. I am selling my Word Game king.com bots and I also have a working Bejeweled app (coded last month) . I also sell the method to get all the answers for the word games before the match starts, you just input the answers yourself if the apps are out of the price range for people. The Bots are only sold to 3 people max per game so they don't run into eachother. The person will be shown the app through teamviewer and if the person wants the method it will be shown through teamviewer on Their OWN pc so this should ease peoples fears about me manipulating my screen etc.
My payment proof can also be shown through Teamviewer or Mikogoin REAL-TIME so again no manipulation of screenshots.
The apps and Method generate $50-75 for 3 hours of playing. It can be alot more if you play for the whole day.
Features
Lifetime replacements (If you haven't shared it with someone else. I can verify this)
If you are interested feel free to add me to msn expertbotters@yahoo.ca
Payment proof is below (for more updated Payment proof just ask or add me to msn and I can show you in realtime.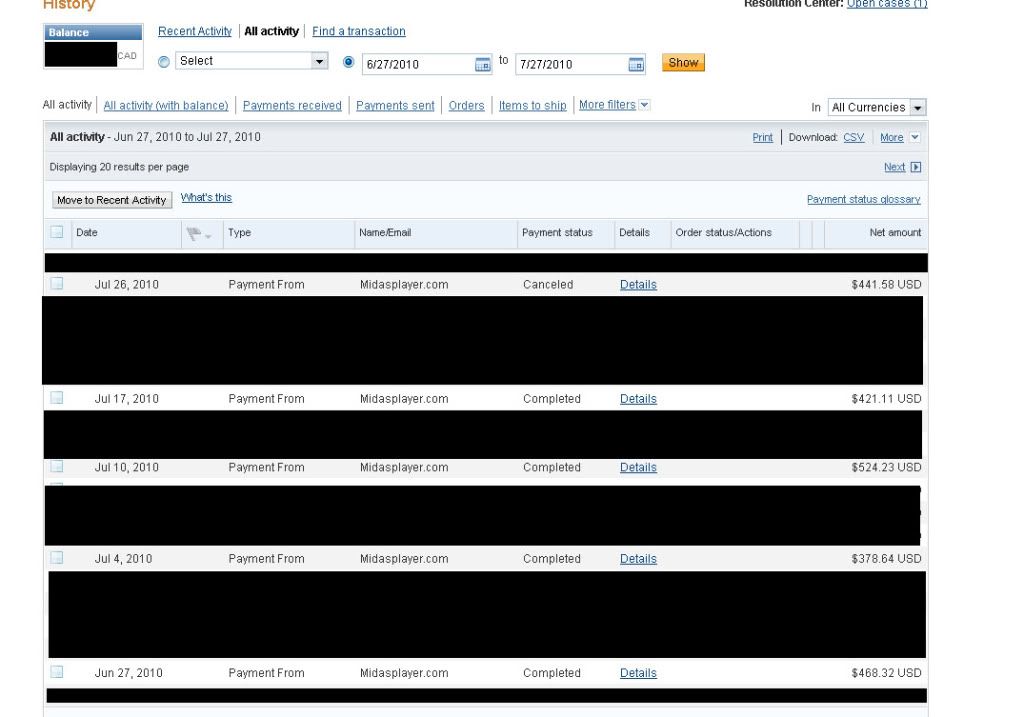 For those that don't know Midasplayer is King.com. To get more money you would have to use a VPN to sign up multiple accounts through the VPN. You can't just make a new account under the same IP King.com tracks the IP's. Those who get a bot or method I explain how to do this also. I blacked out the other transactions I have received as they are from other hacks and exploits I do also. For those who want to see this in realtime who are truly interested in a bot or method just get teamviewer you can view it live on my desktop.
Video Demo of one of my Bots
http://d01.megashares.com/dl/e472e8b/KING.COMBOTQKING1.0.avi
Rules you must comply with
1. You can't Share or Resell my Bots ( I have a way to track this also)
2. You have to write a detailed a review atleast 1 paragraph. I keep this in my portfolio to show the person who I market my king.com source code to.
If you don't write it you won't get updates or replacements.
I am also looking for another coder to join our team so if you have experience in codingin C# OR C++ and our willing to do a simple test to prove you can code feel free to add me to msn also.