It says to run exhume for more details, but to be honest with you I'm not sure how Exhume works in itself.
I play FFXI, mainly, and it's the only online game I'm playing right now. Not many programs for it, but that doesn't keep me from playing it. One program I am particularly interested in is XiFish, an automated program that will fish for me, instead of me having to constantly be attentive at the computer.
Now, when I try to run XiFish, it will give me this error: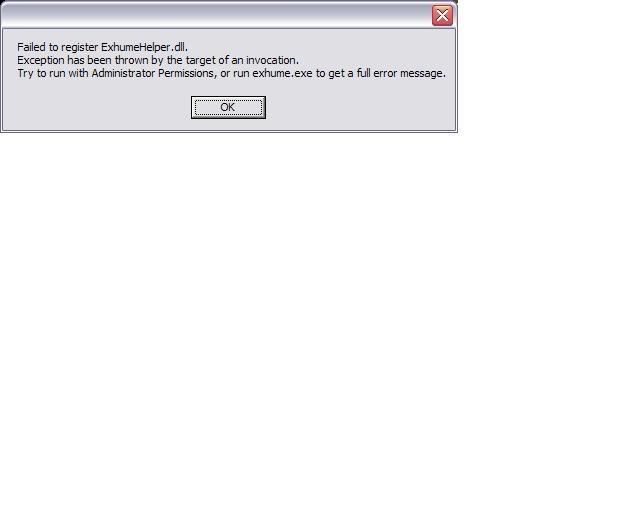 (Sorry for the hugeness of it all, I was a bit lazy and didn't crop the white surrounding the main window)
I do not know where to find this "ExhumeHelper.dll", and nor do I know how to get a new one to replace the one that's been lost.
I remember when I tried to start up XiFish, my computer automatically crashed and restarted itself (why it does that, I do not know). That corrupts data, I'm sure, and the ExhumeHelper.dll was probably one of the files (or the only file, I hope) that was corrupted.
One solution I tried was to install Exhume itself, and not just XUnleashed (what is the difference between the two? I honestly do not know...). But, when I try to run the Exhume.exe, it will give me an error like
"Windows cannot access the specified device, path, or file. You may not have the appropriate permissions to access the item."
I assume I need to run the program with Administrator status, but this is another thing I have a question about. How do I run a program with administrator privileges?
Many thanks,
<i>Raxiaz</i>
p.s. If this topic doesn't belong here, where does it belong? I would like to know so that I can refer to the other forum, if there is, for problems like these.