MIGHT POST VIDEO
You start to go into augury rock. You see the cut scene happening and you start to sweat. The adrenaline starts to pump into your veins and you get restless and start to move around. as you get to the end of the cutscene you start to think of a 10 second strategy. Then as the fight starts you get your preperation set up. But just as you finish it the enemy knock you down and defeats you before you can even attack him. You stare at the screen with pure hatred in your eyes. You start to get angry and your muscles tighten. You take it all out of your keyboard.
3.pho
Hello, my names Legolas523 and if thats hapening to you then hopefully i could help you win and save your precious keyboard.
First of all i cannot guarantee that this will work to you as diffrent people play diffrently. But all my ranger friends that were stuck on this part of the game i helped and they thanked me a lot! So i hope i can help you, the reader win against your nasty annoying mirror image.

OK, The thing that youll need (OBVIOUS THINGS, but netherless noone in this worlds perfect

) are:
Guild wars
A ranger
To be able to go in augury rock
have some nice skills for bow and some spirits.
have fun while playing because if your very motive is winning, thats fine but if you lose your gonna be very angry and or sad.
OK, i got down all the things that you need now lets get started with the guide.(bear with me if you see some mistakes for as im polish)
Ok before you enter the misson go to your skills tab. from there pick around 4 powerful bow attacks. Then pick around 2-3 spirits that take a long time to cast. Then if you have some spots left just put in more bow skills or something else. Ok now that you got prepared finish other things that you need to do and lets go to augury rock.
Ok now that you talked to that priest and got teleported to the rock do all the rituals and get in.(i would go into detail but i dont want to trail off topic here, not that i didnt before lol) after you done the rituals you should see a cut scene that looks like this
after that when you start to fight youll see that the dopplegrander is using a preperation spell or a spirit. Thats your chance to get a lot of cheap shots. Use all of your most powerful skills on him first. This is how i started( quite lame and stupid becuase he set a trap up first thats why i got damaged but still)
then when he finishes all his preperations just charge straight at him and make him get his axe out. If he took it out you probably got this fight in the bag. Keep on pounding him with yuor bow skills. As you can see the whole strategy here is to make him use his axe so he wont have any skills to use with it. As you can see the damage ration between me and him is high ( his damage is 21 to me while i give him 61 with skill)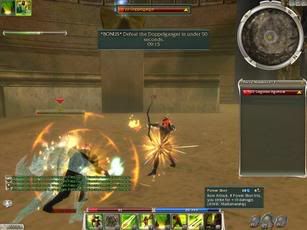 After some time hell just die off and youll win. Just to tell you guys i saw already some ranger guide here but i cant read it as im not a premium member so if its kinda the same please dont flame me.
Well in conclusion the dopplegrander is stupid to use the axe insted of geting out of the way. But be aware as if you get away from him hell take out his bow and pummel you through with bow skills. Well thats about it for the guide that i wrote. (i wrote this two times becuase one time i acidently exited out when i was uploading the last pic

)
Well i hope i get a shot at getting a premium membership for i would like to see the diffrent guides and exploits this fourms have. im not gonna lie mostly the reason was to get the premium account but i also like to help people out too. Than you for reading this and i hope i get a responce from a premium member. My emails
gameboypl123@yahoo.com
. (the images are small and i dunno how to make them bigger so please at least you have something to look at)