Premium Members Please Click Here To Go Directly To This Item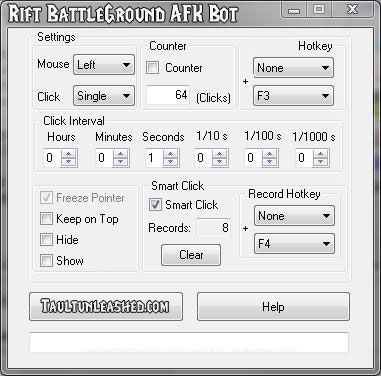 Take your battleground in rift online to the next level with our amazing rift online battleground bot. This bot can do it all when it comes to being in a battleground and getting all the all the rep you can handle in rift online. Features of the bot are as follows.
– Working for all major Windows operating systems. If you computer can play rift it can use this program.
– Ability to custom code your macro to do specific actions while in the battlegrounds.
– Ability to auto join battleground all night long
– Anti afk ability to keep you from getting banned.
– Geared towards free prestige, honor, and reputation farming in the game.
– Ability to run unattended (requires use of another of our the sites programs)
– Easily fool players that you arent afk in the game.
Be sure to come check out the bot today as its for all premium members to check on out. This bot also will have a companion mode added at a later date we plan to allow players to more easily detect others checking out your bot and of course GMs.